Jan 20, 2018
402
505
63
16
Note 1: Alright, this is the moment where I actually bake a cake
Note 2: Instead of me hopping into the cake making now, I'll need to at least set up a scene for it

Note 3: Uhh do note that results may differ from yours and mine (if anyone is interested in making that cake)
—————————————————-
Flanker's perspective

"Alright..uhh we don't have really much time , it's like uhh around an hour plus before the party starts.."
"Yeah uhm..let's start with the equipments..."
No perspective

Equipment list
-You'll need a load tin
-Mixing bowl
-some tablespoons (3 would be enough I suppose)
-Pastry brush
-a plate
-a fork
Flanker:"Alright..so uh we have everything now and yeah"
Flanker picked up the recipe book and followed the steps
Step 1: Grease the loaf and preheat the oven to 160 degrees
Step 2: Sift 100grams of self-raising flour on a bowl and set it aside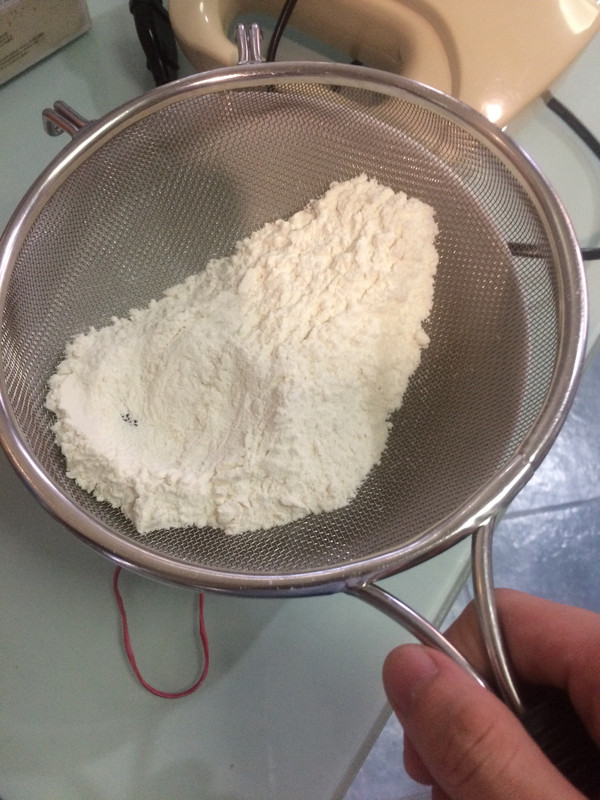 (Yes,that is my hand that you see there)
Flanker:"Wait..am I hearing things or nah?"
Yuri:"I think I heard it too.."
Flanker:"ehh nevermind- let's uhh..just sift the flour-"
Step 3:measure 75grams of butter and another 75 grams of caster sugar and put them in a large mixing bowl [I picked the wrong sugar in the image that I'm going to show you guys so eh bear with me for that]
[remember to leave the butter out before cutting them and placing them into the large bowl, as it isn't rather hard to beat them with a handheld electric beater. Yes I meant is to uh wait for them to soften a little]
Step 4: cream the butter and sugar in the mixing bowl until light and creamy with an electric beater
(Somewhat looking like this)
Step 5: Crack two eggs into a bowl and 'whisk' them with the fork
Step 6: add the beaten egg mixture a little at a time/gradually to the creamed mixture, beat well after each addition
(After beating and adding, this is probably what it should look like)
Step 7: pour the flour down into the mixture and "fold" them with a spoon (if you don't really understand what folding means, use the electric beater and beat them[I have not tried doing that so I'm not sure how long to whisk])
Step 8: Take and peel 2-3 medium bananas and cut them to thin slices
(Please do not cut them too thinly like that, it wastes a lot of my time)
Step 9
Wash the fork properly (or get a new one) and mash the bananas
Step 10:
Lay some of the mashed banana on the base of the loaf tin evenly
(PLEASE, do not take half of the mashed bananas into the loaf tin, you are supposed to put the most of it in the batter thingy, don't follow what I've done in the image)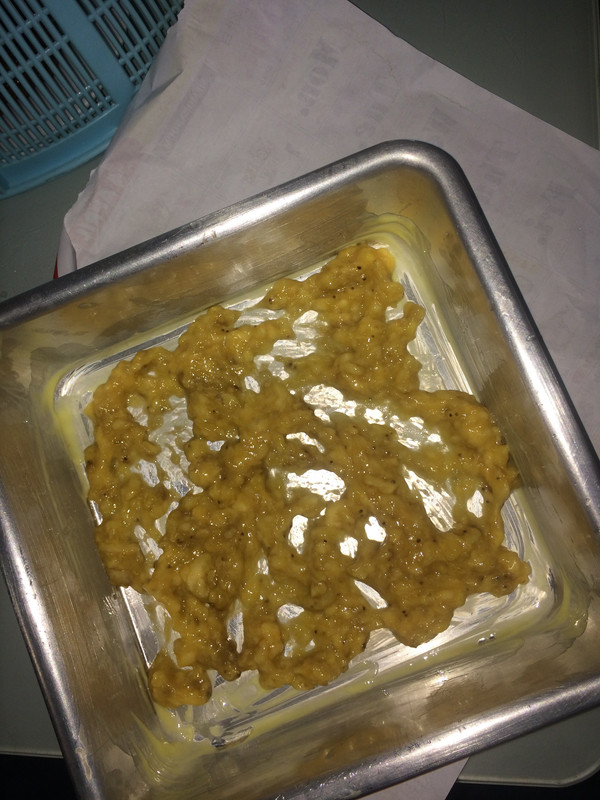 Step 11:
Add the remaining mashed banana into the batter mixture and mix them lightly
Step 12: Add the mixture into a loaf tin
Step 13: Bake it in the oven on the middle shelf for 30-40 minutes
Final step: remove from oven and leave it to cool
Final step
ut the cake on a plate/food container and you're good to go!
Time taken ~1hour+
Flanker: "Damn..finally..we're uhh done"
Yuri:"Yeah.."
Flanker:"We'll uhh..pack that up and quickly head over to Feline's place right now-"
—————————————————
Cyanogen took a quick look on his smartwatch
3 minutes till arrival
Cyan:"Oh my god, where are they?"
Short:"Nah don't worry, I mean, they don't even have the title 'Well Known member' in the forums..and they don't really post much..?"
Noel smirked
"They're probably still in their makeout session haha"
Short: "ugh can you not talk about that..it's really uncomfortable-"
Short:"Anyways! Star! How's DAVE going?"
Starwizard, who has been inhaling a pack of suspicious looking substance named "old memes from my therapist brother" looked up at short
Star:"Damn this stuff is pure- I mean.. well Dave's doing pretty well I guess?"
D.A.V.E suddenly 'possessed' one of the blank Television screen, blasting C418's Sweden theme in the room and displayed the final results of his cake
D.A.V.E:"Ahem. I am done with the cake , and like StarWiz requested. It's a cake that looks like the cake food item from Minecraft."
Star looked at D.A.V.E with a shocked expression in his face
"Holy goodly god! The StrAWbERrIEs ARe cUbE ShApEd?!"
D.A.V.E :"Like what you've requested. A Minecraft cake"
Before anyone could say anything, Cyanogen's watch started beeping loudly, announcing


"She's going to open the door in 50 seconds. Please find somewhere to hide . Now"
Everyone in the room made a huge stampede,trying to find somewhere to hide
Kriss smiles to himself as he activated the camouflage on his armored suit, blending him into the surroundings
Nemu drew a picture of a mirror with her stylus pen and hid behind it
Abraham went outside through the back door and emptied his water cannon, blasting him to the roofs
Starwizard hid behind a curtain, though his legs are exposed
After a mini stampede, the room was finally left with D.A.V.E in the television screen
D.A.V.E : Sigh..I'll hide the cake and shut off all lights"
The whole room is now fully quiet and dark.
———————————————-
Feline's front lawn
Techie took a peek from the bushes and back on his mobile phone
Techie:"yo peeps! My uhh exotic bird radar app is showing signs of the ender dra- Wait I mean..uh shows signs of a bird with a weird frequency here-"
Jack hit Techie's head ,scowling
"This isn't a time for us to look at rare birds dipsh**"
Techie:"But Feline can transform into a dove-"
Hans:"Shh..over there!"
The gang kept quiet as they saw a white Dove flying and landing on the gravel pathway to the door
A bright beam of light was released as the bird slowly took the form of a human girl
Techie:"Damn..this is going to be recorded in my sciency findings-"
Feline stretched her back as she took a few steps to the front door
Her hands gripped on the doorknob and twisted it slowly
"Huh? A blackout happened?"
Feline entered her house and looked around
"Guess I'll have to flip the switches manually.."
She closed the door and walked over to the place where Starwizard is hiding
Thankfully, due to the dark surroundings, she couldn't see him
Star held his breath and tried not to utter a word
Feline looked opened the "circuit box" and flipped on the major switches
Chank!


The lights were then switched on
Everyone:"Surpise!!"
Starwizard leapt our from the curtains and pulled the party popper
Papuli jumped up from his hiding spot
Papuli: "Happy"
Star:"Happy"
Phantom:"Birthday!"
Short:"Happy"
Karrot:"Birthday"
Noel:"Cake!"
Kriss:"Happy!"
Cyan:"Happy"
Mushroom:"Happy"
Nemu:"Birthday"
Dave:"Pin"
Makeshift:"The "
Elite+Spahy:"Tail"
Zut:"On"
WinnerXl:"The"
Flox: "Seahorse!"
Medic2.0:"Happy"
Nothin:"Happy"
Abraham crashed in through the open windows
Abe:"Birthday!"
Szymon:"Feh-lin!"
Everyone:"Happy birthday Feline!!!"
Feline stood rooted the the ground, amazed by the sudden birthday surpise and song
Feline let out a nervous laughter
Feline:"Heh heh, my appreciation everybody!"
—————————————————
After the birthday song performance, D.A.V.E released the Minecraft Cake from the fridge(assuming that it is uhh a 'computerized 'fridge)and shot it accurately on the table without damaging both the table and the cake
Star:"Eyy nice trick shot"
———————————————

Flanker's perspective

"Oh god we're very late to the party..."
I said as I hid behind the open front door with Yuri
Yuri looked at me with a face full of concern
"I-uhm Flanker..are we supposed to enter?"
I sighed
"Well-..I'm not sure.."
"Maybe we should uhh wait here for a little longer and think what we should do.."
Yuri:"Yeah.."
After a few minutes of mulling over, the duo finally came up with a "bright idea"

"Hey Yuri uhh"
"Huh?"
"Remember our uhh modified flash bangs?"
Yuri:"Uhm..Yeah?"
"We should uhh..throw them in and enter-"
Yuri:"Flanker but that's..."
Flanker:"Don't worry- uhh remember that we recover faster from the flashbangs?"
Yuri:"Yeah..?"
Flanker:"It's a reasonable entrance I guess-"
I pulled out the pin of the flashbang and held it on my hand, Yuri follows suit
"Ready.."
"Throw!"
We rolled the flashbangs into the living room where everyone is at
—————————————————-
Kriss heard the sound of a metallic clang and turned around
A flash-bang!
And another!
Kriss:"Take cov-"
—————————————————-
To be continued

as I'm being forced by my parents to rest after taking my meds
I'm really sorry that I couldn't include the current active member OCs who are part of the forum duels,,

But ehh yeah I guess?